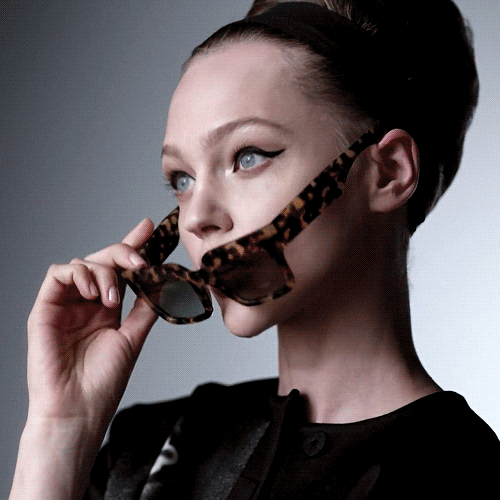 Your attire may have the best of bags and clothes but it is not at all completed with the pair of shades. The New Year has been started one month ago so it is the best time to shop for the new sunglasses and to see what is there in the latest eyewear trends. This period sees the return of numerous popular trends, as other sunglasses and spectacles styles are particularly meant for the winter period. In terms of colors, the dark tones are controlling the season.
So, here we are giving you a list of the most popular glasses trends which will surely dominate the 2017.
Eyewear trends in terms of colours
1. Tortoise Shell Rimmed Glasses
If you desire to stay in tune with the present eyewear trends then the tortoise shell glasses are the most excellent option for you. You can go for a rectangular tortoiseshell frame and these smooth slim eyeglasses are for both women and men. There are various colour palettes available for this pattern and you can choose them according to the colour of your dress.
Black rimmed glasses are an ideal choice as this is fairly popular during in all the seasons. These goes very well with the formal outfits and rectangular black eyeglasses are perfect for men who are looking for a change in their overall look. For women I would recommend black cat eye frame, as this is ideal for women who work in the environment of business as these are bounded for emphasizing their professional nature.
White Glasses are amongst the most admired eyewear trends. Their impartial colorway makes them a best choice for this season so you must cop them without waiting. These are perfect for both men and women and you can go for the Square frames if you have round or oval shape. Moreover, you should unisex frame so that if goes well with you and your spouse.
4. Red and Purple Eyeglasses
The red, pink or purple glasses are generally destined for women. These sweet color women's eyeglasses are an ideal choice for a fashionista. These are very stylish and fashionable and go well with the matching outfits. Red cat eye glasses can be extremely attractive if the colours of your skin is a dark shade then the contrast will be gorgeous. Additionally, red finally gives you a mysterious as well as sexy look.
Eyeglasses Trends in terms of Styles and Shapes
Round Glasses are a great choice for both men and women who want a change in their look. If you want a professional look then you can go for the round eyeglasses. These Round Glasses can be matched with a various outfits and are well suited for rectangular and square shaped faces.
Aviator Glasses have long been a preferred of eyewear buffs. These can be worn with the prescription lenses and in plain form also. One can use them as a fashionable accessory to up your clothes and also praise the features of your face. Moreover, you can choose these from a variety of colours as per your choice.
Oversized Glasses are an important eyewear trend and are making a powerful comeback and already starting to dominate the 2017. These frames look very great on both men and women. Apart from this, you can also go with the two frame colorway, for getting in the feel of the season and match them with your outfits.
As rich as always, cat eye glasses are in style and are ladies best friend in the business as well as academic environment. These contour the image of an influential woman and are very sexy also. Also, you can these in various colours and patterns as per your choice and needs.
Sunglasses Trends in terms of Shapes, Styles and Colours
These are also called as the half rim sunglasses. There are perfect for the stylish woman as well as for the dapper man. These have vintage inspired look and can be regarded as hipster glasses for boys.
Flat Top sunglasses are amongst the best sunglasses for men and women. These are available with various colours as per your requirements and have slightly bigger lenses. While men favor more modest lens and frame colors, women favor more bright and vibrant.
3. Round Mirrored Sunglasses
Round Mirrored Sunglasses can be worn when the sun is trying to get in your eyes or when the snow is piling up. If you have got an angular face then these will perfectly goes with it. Nowadays these are preferred by both men and women.
Gold is a graceful color so you with the sunglass of this colour then make certain that you praise them with an evenly stylish outfit. Gold sunglasses go perfectly with the dazzling colors like beige, yellow as well as with shirt of white colour.