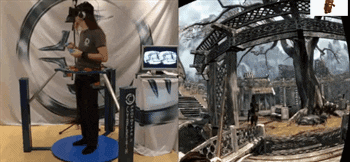 I hope that you all are aware of the Oculus rift games. The content of the rift games has been developed by making use of Oculus PC SDK. These offer more dramatic situations to the players in contrast to the other games. So here are giving you a list of 10 most popular Virtual Reality games which you can play on oculus rift.
This is basically an adventure game where a player is on the region of Antarctica in a mission for rescuing her fiancé. Edge of Nowhere is one more of those VR games that feels it can simply be as a more conventional game, but it does some testing with the platform for finding new methods for scaring the players. Additionally, in this a player can discover several locations of Antarctic region like big mountains, ice walls and many moré.
A player who plays traditional video games and is looking for the world of Virtual games, for them Chronos is a best option. This is amongst the most popular games. You will find this game packed of the characters RPG which record the young hero's lifelong mission for keeping their home secure from an evil.
Chronos also avoids the common VR approach of the first-person viewpoint and favor the view of third person, where you observe and manage the action from a detach perspective same like camera records an event.
Pinball FX2 VR is that type of a game by playing which you will feel that you playing ball digitally. Most excellent features of this game are its 3d graphics, real table deigns, advanced tools and many more. This game displays the ambience of real pinball machines and shows the high effects that are difficult to create in real.
This is a

first-person

adventure

video game and is available in VR and non VR. In this game as a player you have to deal with the gravity and inertia. The story mainly follows an astronaut when he is in center of the space station and then it destroyed. Moreover, a small movement of your as a players can lead to win or lose this game and played from a first-person view.
5. Keep Talking and Nobody Explodes
Keep Talking and Nobody Explodes is mainly a party game and is highly reckoned due to its great concept. In this game people share a room but there is only single person is in VR. The role of experts in this game is played by the extra players. The main player is in a room along with a time bomb and he has to defuse that bomb by taking training instructions from the experts. Apart from this, this game also has challenging puzzles to test your friendship and communication skills.
P.O.L.L.E.N is another popular game and in this player works in the Rama industries and has been sent to the titan. Titan is a moon of Saturn. There is a 'station M' of Rama industries and have several areas for a player to discover. Moreover, the areas include the generator room, landing pad, labs, quarters for crew and various others.
Elite: Dangerous is amongst the most popular VR game and is related to the stimulation of stimulation, space adventure, discovering galaxy and lot more. Elite: Dangerous is IVth in the series of Elite video games. You can see very minute details of galaxy in this as it is specially designed for the VR. There are 4 levels of players status for discovering. The three principal sections of Elite: Dangerous are the empire, the alliance and the federation.
Dead and Buried is mainly a shooting game in which there is horror also for creating an exclusive supernatural shootout. When you play this game you spawn in one location and then will duck in and out of cover to defend yourself against the gunslingers and bloodthirsty zombies. Moreover, this game is perfect for those who love shooting games.
| | |
| --- | --- |
| | |
| | |
| | Free with Oculus Touch Activation |
The Climb is a very amazing VR game which makes you feel that you climbing on a rock. It mainly animated the feeling of climbing rock and you as a player will also came to see the sights and eye catching views around the mountain. This is specially launched for the VR and allows a player to climb a rock with its own speed and by using various techniques.
EVE Valkyrie is perfect game for you if you want to dive into the dogfighting which is packed with the actions. You can be a pilot for the space fighters in various other VR games but here EVE will throw you into its 16 player furballs directly with no hassles. In this game, the new carrier attack mode makes some particularly tense battles for taking down the enemy base and gives you the chance for doing a Star Wars-style trench run.
Apart from the 10 popular Oculus rift games mentioned above there are also some games which are well liked by the people. These are Radial-G: Racing Revolved, Lucky's Tale, Windlands, Project CARS, House of the Dying Sun, Don't
l
et go, I Expect You to Die, Subnautica and various others. All these games can be easily downloaded and give you a great experience of playing games. In addition, all Oculus rift games are designed by experts having a good story line and are being by the people all over the world.