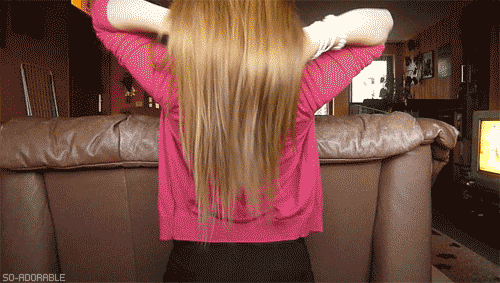 Styling you hair sometimes can be difficult for you. If you have long hairs then there are many hairstyles which you can go for. You can pretty much do whatsoever you want and make any style for any event! If you are thinking what to do with your long hair and how to style them, then here we are giving you 10 easy hairstyles for long hairs.
This hairstyle for long hair will surely look very beautiful with an attractive summer dress. This perfectly shaped bun can be made easily using a sock which helps in giving the shape of the bun. You should spray it with a hairspray for keeping it tight and nice.
The Tuck and Cover at present is the cutest as well as hottest hairstyle. Making this hairstyle is very easy all you have to do just two steps that are first you tuck your hairs and then you cover them. Moreover, this is a perfect hairstyle for spending a day at the beach and for office also.
3. Party Ready Fancy Ponytail
This type of ponytail is easy as well as the most flexible hairstyles for long hair. You can easily transform it into a very slick as well as a classy hairdo. Additionally, this fancy ponytail is loved by many fashionistas also.
What can be more beautiful than the beautiful and soft wavy hair? It is a very modest look which surely takes you all the day. You can use various methods to get this amazing hairstyle for your long hairs.
Bangs are astonishing but sometimes they can bind you in what type of hairdo you can put on. Updos look amazing with bangs and the braid in it finishes the look perfectly and gives you a really nice look. These are perfect with a flowy white shirt as well as jeans.
6. The Half up French Braid
The French Braids are a great method for adding a lot of cuteness to your long hairs. They are very easy to make in a short time. Moreover, you can adopt this hairstyle in festivals or wedding for your best friend.
The Bow Bun is likely the cutest as well as most feminine hairstyle mentioned in this list. This is perfect style for summers and you can also use a hair spray if you wish for a longer hold.
Pinned Hair is amongst the most deceptively simple hairstyles for the long hairs. This hair style looks very intricate but actually only takes a very less time for completing.
9. Half Up Half Down Hairstyle
Good-looking flowy hair is always an amazing look for a wedding and goes perfect with any kind of dress, casual or formal. Furthermore, this hairstyle is elegant with wavy or frizzy, straight long hair.
This chignon hairstyle may look difficult to do, but it actually isn't. The key is to have a hard hold on your hair and have your bobby pin set for finishing the chignon following the second pass. Hence, you can finish the look of this hairstyle with a bow or flowers.